This post is a departure from my typical rantings on technology, but I feel a need to put this out there.
Let me start by saying that I absolutely love the New York Times Crossword Puzzle and Will Shortz is kind of a geek hero to me. I attempt the puzzle every day via their official iPhone app. The app also includes "The Mini", a quick puzzle which is just a 5x5 grid and is really fun when you only have a minute or two to spare.
The shape of the puzzle
Last week, on December 1st, I opened up The Mini which was authored by crossword prodigy Joel Fagliano and immediately found myself thinking, "Hmm, this puzzle is shaped like a swastika!" Now, I'm no conspiracy theorist. I don't believe that I'm being wronged at every turn. To the contrary, I generally see the humor and ridiculousness in daily life. So I concluded, "Well, it kinda looks like a pinwheel too. Likely just a coincidence." And then I moved on to the clues...
One Down
The very first clue I attempted happened to be 1-Down:
Captain Kirk or Harrison Ford per Sandler's "The Chanukah Song"
This clue should have delighted me to no end with it's Star Trek AND Star Wars connections. Who doesn't love Sandler? And being a proud "JEW" myself, the answer is one that I could personally identify with.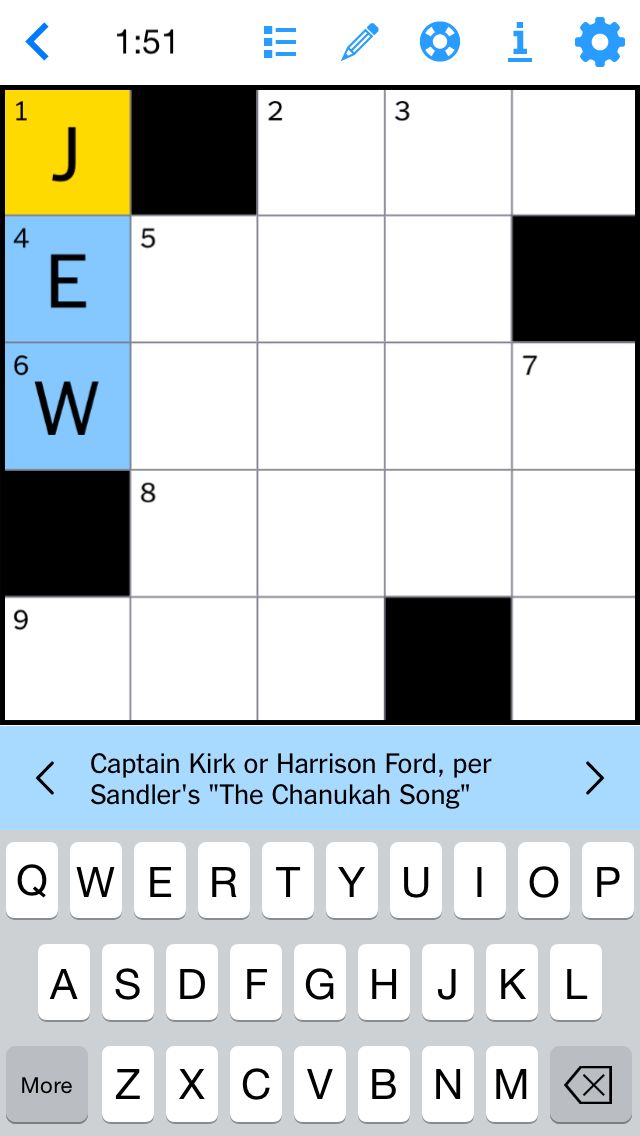 What a minute! Did that really just happen? Given the context of a puzzle arguably shaped like a swastika and the answer "JEW" in a prime spot... my blood started to curdle. So I wrote to the editor via the in-app feedback link.
NY Times responds
The following day I received an email response that, while probably accurate, was less than sympathetic.
Thank you for writing to The New York Times.

I can assure you that Mr. Fagliano meant no harm in the pattern of squares for today's Mini. As I'm sure you probably know, there are only so many possible arrangements for squares in a 5x5 puzzle. I had to look really hard at it in order to see what you refer to as a swastika, and personally, I mainly see a lot of white space.

Also, the entry JEW had no connection to the pattern of squares in the puzzle. The clue itself is a line from Adam Sandler's "The Chanukkah Song."
My opinion
I really do believe that Joel Fagliano had no malintent with this puzzle. Yet I am still left feeling unsatisfied. The NY Times response basically accused me of dreaming up the swastika shape. To prove that it wasn't just me, I presented the puzzle to a bunch of other individuals. Each answered within seconds and provided only two distinct answers: "swastika" and "Nazi symbol". No one mentioned "pinwheel" and no one even said, "I don't know."
I suppose I fault the NY Times Crossword editorial staff for not catching this. And even once it got out, there has been no acknowledgement that the puzzle could have been interpreted as insensitive.
What next?
Leave me some comments with your thoughts on this. If you are disappointed by this puzzle, please let the editors know by sending a tweet to @NYTimesWordplay.
What am I going to do? Keep on keepin' on. I'll still do my crosswords. I'll still scratch my head over the Sunday puzzle. I only hope that this post yields something constructive. Perhaps driving the crossword staff to consider their audience more carefully; I know they can do better. And maybe we'll eventually see an improved NY Times Crossword product for everyone.